Meet Sulaiman Abdullah Mohammed Al Dwari, a 95-year-old Emirati craftsman in the UAE, carrying forward the age-old tradition of crafting palm tree ropes since he was just 5 years old. He's a living testament to the endurance of traditional craftsmanship in a rapidly advancing technological world.
"I don't remember my exact age, but I'm likely 95. I started making robust palm tree ropes with my bare hands at a very young age, possibly around 5," shared the nonagenarian craftsman.
Dwari is the star attraction at the Al Maleh and Fishing Festival, currently held on Dibba Al Hisn Island, organized by the Sharjah Chamber of Commerce and Industry.
Also Read: Turkey, UAE sign 13 agreements worth $50.7 bn
With a cheerful demeanor, Dwari captivates the audience by demonstrating his palm frond weaving skills. "What I do may not seem extraordinary, but it's a lost art to the younger generation, which is why they find it so captivating," Dwari explained.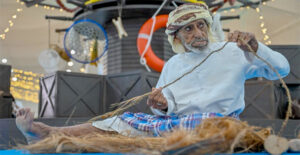 Born in Dibba, Fujairah, Dwari has perfected his skills in rope-making, netting, fishing, and fish salting over the decades. "I'm just five years old with 95 years of experience," Dwari proudly remarked, his eyes gleaming with pride.
In the past, our society revolved around fishing and pearl-diving communities. However, today, our nation boasts excellence in every conceivable field. People from across the globe aspire to make this place their home, and this remarkable transformation is largely credited to our visionary leaders who have shaped our nation into what it is today," Dwari expressed.
(This story is sourced from a third-party syndicated feed. Raavi Media takes no responsibility or liability of any nature. Raavi Media management/ythisnews.com can alter or delete the content without notice for any reason.)