A dream of a Hyderabadi Techie to pursue higher education Poland and earn a better life for his poor family shattered out of the blue when the vicious waves of a beach in Poland swept him away to death. The tragic incident that the family of Salman can't expect in their wildest dream has happened only last week leaving the parents in a state of bereavement.
A 24 years old Hyderabad Techie, Mohammed Salman, resident of Usman Bagh, Bahadurpura, went to Poland only last year after completing his B-Tech Mechanical Engineering from Lords College in the city to pursue Masters in Production Engineering from the University of Warsaw.
However, on 19th July the pale of gloom descended over the family of Salman when they received a call from the Indian Embassy in Poland about the demise of their eldest son.
It is said that Salman went to nearby Nieporet beach on Sunday to enjoying swimming with other friends already capering there. However, this misadventure unfortunately turned fatal as Salman, who reported unaware of swimming, had drowned into water under the influence of powerful currents flowing viciously at the beach.
In a family of four brothers and a sister, Salman is the lone breadwinner. "He started looking after the family soon after pursuing his B-Tech Engineering and even has worked in one of the renowned IT companies in the city before being flowing to Poland, informed Arbaz, the bereaved brother of Salman.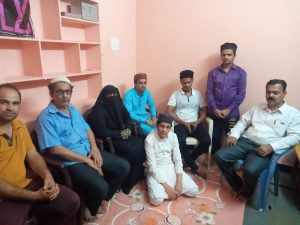 Only Sunday, he said, we have received a call from Indian Embassy in Poland and informed about the death of Salman Bhai. The matter has brought into to the notice of the Ministry of External Affairs and Minister KTR through Twitter. The process to bring back the body from Poland has already begun. "The embassy is cooperating with us. What is painful is the loss of Salman Bhai, who was the tower of strength for our family and feels upto to do something for us," expressed Arbaz, with a whole gamut of emotion.
Salman has instilled a ray of hope in the family by emerging out of all odds of negativity that always surrounds to a poor family in the old city. "He was the lone breadwinner in the family. At a very young age he realizes that the income of his father, who works as security, could not bring prosperity to the family. The government, as well as the NGOs, should come to the rescue to this poor family," argued Mohammed Imam Tahseen, A social activist.