In Spain, a fresh incident of sexual harassment has sparked outrage across the country after a woman reporter was allegedly touched inappropriately by an individual while covering a news story.
The incident occurred this past Tuesday when the Cuatro Channel reporter, Ayesha Ballado-Medrano, was reporting on a robbery. A video posted on social media shows the suspect approaching Ballado-Medrano and placing his hand on her body while asking her about the television channel she was working for.
Ballado-Medrano, who was still on the air, pushed the man away and attempted to continue with her report. On the other hand, the news anchor in the studio, Nacho Abad, interrupted her to inquire about the identity of the person captured on camera.
Also Read: Woman constable suicides inside Bihar police control room
Despite multiple attempts by the journalists to remove the suspect from the scene, the cameraman turned the camera towards the individual. The suspect denied touching her and claimed he was leaving the area, but his hands were caught in her hair.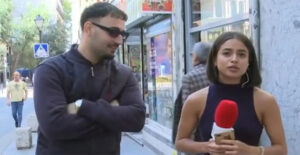 The individual has been arrested on charges of sexually harassing a woman reporter live on television. The police have reviewed the footage from the X platform, where the man can be seen allegedly sexually harassing the female reporter.
Public support and solidarity are pouring in for the reporter who fell victim to harassment, while the television channel owner has also expressed complete empathy with her.
(This story is sourced from a third-party syndicated feed. Raavi Media takes no responsibility or liability of any nature. Raavi Media management/ythisnews.com can alter or delete the content without notice for any reason.)