With an aim to extend timely support to the distressful, needy and stranded people of the flood affected areas, the family of Late Mohd Pahelwan, a prominent figure of Barkas area begins distribution of food packets in different areas.
For this philanthropic cause, extensive arrangements was made at Omer Function Hall, Barkas wherein all the food items were prepared under the supervision of  Saif Bin Maqbool Yafai, the elder son of Late Maqbool Bin Umar Yafai and Sikander Bin Mohammed Yafai, the elder son of late Mohd Pahelwan.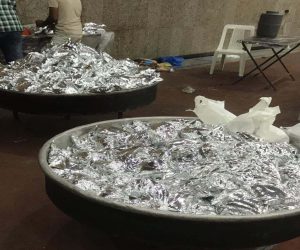 The philanthropic drive kicked started from Sunday i.e. on 18th October itself soon after the Gurrum Cheruvu Lake developed a breach resulting into a flood that swept away the areas at downward direction such as Omer Colony, Hafiz Baba Nagar, Gulshan-e-Iqbal Colony, Phool Bagh and Aaliya Garden.
Learning that the flood waters leaves a trail of destruction in the colonies of downstream areas, the renown Yafai clan of Barkas, geared up to continue the legacy of Late Mohamed Pahelwan – who always known for reaching distress people during their tough time, and open up doors of Omer Function Hall, Barkas for the preparation of food items in order to reach the flood affected people with necessary supplies.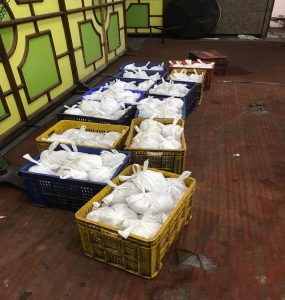 "Around 3000 food packets consist of Chicken Biryani and a water bottle has been distributed Yesterday in flood affected areas such as Hafiz Baba Nagar, Omer Colony, Al-Jubail Colony, Nabeel Colony, Osman Nagar, Saif Colony and Royal Colony besides Sayeed Colony and Ali Colony in Barkas. Similarly, keeping the drive continued we have supplied food packets consisting of Bagara Khana and Dalcha even today to the people of the same flood affected areas. The drive will continue tomorrow to reach out distressed people. We always stand with the people in need in their testing time," asserted Saif Bin Maqbool Yafai.
"This is really a tough time and the need of the hour is to stand with the flood affected people smarting under tribulations due to Saturday night flood that rob them with whatever wherewithal they have with them before the calamity," said Ahmed Bin Abdul Khader Ballasqa.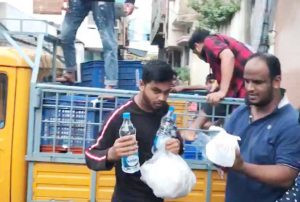 The philanthropic cause amplified by vigorous young volunteers of Barkas that include Sohail Bin Mohammed Yafai, Amer Bin Dardam, Abdul Rahman Bin Abdul Khader Ballasqa, Hassan Barakba, Abdul Rahman Bohdail, Ali Baradwan, Hamed Bawazeer and Faisal Basravi.
source: with input from ians