While acting tough against more than one beneficiaries of Aasra pension in a single-family, the officials are in fact canceling the registrations of both the members making the genuine one deprived off from the government's aid under the scheme.
"I am getting pension through Aasra scheme for the last four years along with my husband, however, recently when our pensions were canceled out of the blue, we came to know that having more than one beneficiary in a family is not permissible under the scheme. But the fact is me and my husband is in the age of senility. Having no knowledge of the rules made both of us deprived off from the Aasra benefit. The officials have now canceled the registration of both of us without showing any apathy," bemoaned Munni Begum, an old age lady from Hassan Nagar.
"Now, she said, we are shuttling from our home to municipal office in order to convince the officials to revoke the cancellation of registration of at least one of us. We are a poor family leaving in senility and keeping our heads above water counting on completely on Aasra pension."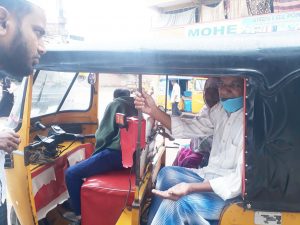 Meanwhile, the officials are on the view that the cancellation of both the persons should not really happen. "We have already informed the DRDA officials about the cases in which registration of both the members have been canceled and the response is awaited," informed Ganesh Field Officer.
Syed Yousuf, an old age Aasra pensioner, is explaining his plight to local area sabha member Mohammed Jahangir before heading towards the local GHMC office in the auto. His senile wife Munni Begum also seen sitting next to him.
"The act of the officials is tantamount to collective punishment of the entire family, where more than one member has applied and got selected under the scheme. It is completely obscure on what ground the officials are acting in such a way as the government through its order has permitted one person in every family to avail the scheme," contended Mohammed Jahangir, a social activist.