Contrary to the claims made by Hyderabad Metropolitan Water Supply and Sewerage Board (HMWS&SB) that they are providing fresh water to flood-affected areas in the city, the distressed residents are still complaining that no such facilities are yet reached to them.
"Neither the chlorine tablets nor the bleaching powder is being distributed here in our area. Though we were put up with the inundated water for almost a week, no representative or officials have visited our areas to take stock of the plight we are smarting under, bemoaned Mohammed Mohsin, a resident of Kokaki Tatti, Hussaini Alam.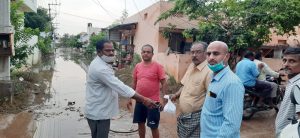 Besides water cans and water packets, the water board is claiming that bleaching powder and chlorine tablets are also being distributed in flood-affected areas. More so, repair works of sewerage and water pipelines have also been taken up in several areas. However, the people in severely affected areas completely disapproved of the Water Board's claim.
"We are getting water from mineral water units near our area ever since our houses were flooded with murky water but didn't get any fresh supply from HMWS&SB. Only officials can say which areas they are distributing freshwater packets or cans," said Ahmed Bin Abdul Khader, a resident of Barkas.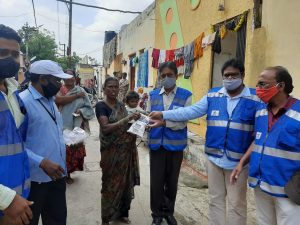 "If a single day of freshwater distribution will be enough to quench the thirst of lakhs of people stranded in the floodwater? People in the old city aren't aware of such services claimed by the HMWS&SB whether it is the supply of fresh water or distribution of chlorine tablets or bleaching powder," Syed Shoukat, a resident of Baba Nagar.
"Neither the staff of GHMC nor the Water Board are visible anywhere in our area while people themselves are clearing the debris and sludge that is stored in houses after flood water washed away the colonies. Leave alone getting us freshwater or bleaching powder or chlorine tablets," said, Zaheeruddin, a resident of Sulaiman Nagar.