In order to provide the craftsmen a platform to display their exceptional piece of artwork and turn their skills into earning, the Craft Council of Telangana (CCT) has organized the arts and crafts event at CCT Spaces, NBT Nagar, Road No.12, Banjara Hills wherein art work of hundreds of weavers, designers, craftsmen and artisans were put on display.
However, the three day long 'Kausalyam 2021 Handicrafts and Handlooms Expo' that begins to attract the craft lovers in the city from 11th February, has a last day today to conclude with bounty of resplendent piece of arts and craft were put on display under one roof.
ALSO READ| No Work for Handloom workers in Hyd, forced to return back
This time the event was organized on its own premises where over 70 exhibitors from across the country are showcasing their skills and masterpieces.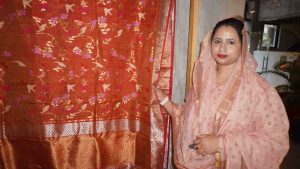 The exhibition features bandhani from Sidr Craft, Chikankari from Saman Chikan Art, Kalamkari from Dwaraka Plus, Ajrak from Gamthiwala, Batik from Shunya Batik, Kutch embroidered blouses, sarees & dupattas from Shrujan and Orissa sarees from Tarini add more colours to the collection.
Ramkumar Halder exhibits Matka, phulia and khadi jamdani sarees, Chaman Premji siju, his unique bhujodi sarees & stoles. Niyaz Ali has a wonderful collection of zari kota doria sarees. Wide range of benarasi, tanchoi sarees and Handlooms mangalagiri sarees, wide variety of woven sarees besides Parsi gara borders, dupattas and sarees.
ALSO READ| Hyderabad Pearls, Charminar Bangles, Pochampalli Handlooms outlets set up at Kacheguda Rly Station
"The primary aims behind organizing the craft exhibition is to motivate the artisans and provide them the platform where they can display and promote their legerdemain skills besides gain an opportunity to market their creativity," said Vijayalakshmi Prabhakar of Crafts Council of Telangana (CCT), a not for profit body.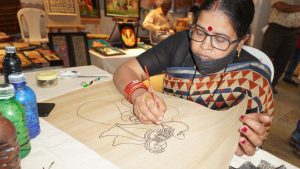 "The coronavirus pandemic has ravaged the humans all over the globe and has a similar bearing on artisans at home," she said, adding that, "At this crucial juncture, we need to stand up with the weavers, designers and craftspeople so to help them get weaving their hopes again."
During the event several organizations and individuals were conferred with "Sanmaan awards" in recognition of the services they rendered to promote Handicrafts and Handlooms.  Chintakindi Mallesham, an inventor of ASU Machine was honoured with "Lifetime Achievement Award."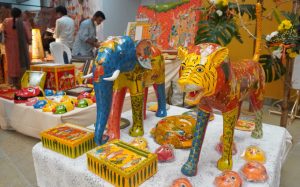 Mobina Bano of Kota, Rajasthan – who has been displaying her legerdemain skills since the age of 15, has been honored with National level "Excellence in Handloom Award" of National Level.
ALSO READ| Microsoft launches e-commerce portal for Telangana's handloom weavers
Ambika Devi Soni, who endeavored to preserve and sustain the art of 'Madhubani Painting', was bestowed with national level "Excellence in Handicrafts Award."
Similarly, Jonnalagadda Niranjan was vonfeed with the CraftPreneur Award for his innovative Kalamkari Paintings by embracing traditional ways. Kola Rajeswari and Kalingapatnam Usha, both the skilled weavers, were felicitated with state level "Excellence in Handloom Award" for their recreated timeless masterpieces of Raja Ravi Verma in Khadi."
Sapavat Kamala Yadagiri of Crafts Council of Telangana Banjara Needle workgroup was felicitated with State Level 'Excellence in Handicrafts Award.'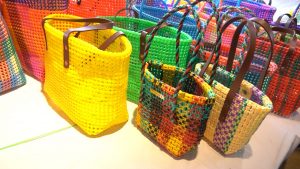 Naveena Dosada was recognized with a 'Child Artisan Award' for not only pursuing the family's traditional craft of silver filigree work but also helping her father Krishnachari in projecting their products on online platforms.
D.Sai Kiran of Traditional Cherial Scroll Painting and Masks was honoured with CCTs 'Injamuri Srinivasa Rao Consolation Award for Excellence in Craft.' The Cheriyal Scroll Paintings is unique to the state of Telangana and A modified version of Naqqashi art, a 12th century old art form considered as highly rich in the local motifs.